King Cakes at Acorn
Acorn is celebrating Carnival season in good taste with not just one, but TWO delicious King Cake options. Join us in City Park for these limited offerings.
DIY (Decorate it Yourself) King Cake
Light frosting or heavy frosting, all the purple, green, and gold sugar, or just a sprinkle – YOU CHOOSE! Acorn's homemade cinnamon pate au choux personal king cake comes with almond icing and colored sugar on the side. You get to create your own edible masterpiece! It's $7 and available now until Mardi Gras.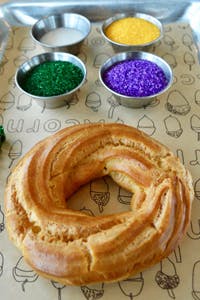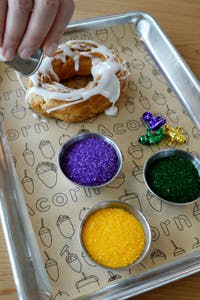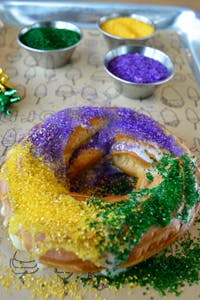 King Cake Latté
You can have your cake and drink it too! This house-made, seasonal specialty combines French Truck espresso with cream, condensed milk, cinnamon, almond, and orange zest. It's topped with a dollop of purple whipped cream and a dash of Mardi Gras sprinkles. Available hot or iced for $6.